Seriously, this is a great idea: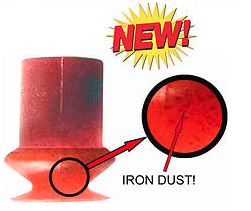 New for 2014, Vacuforce is pleased to launch its new metal impregnated silicone for use in the food packaging industry.
If a vacuum cup should fall off its fitting, metal detectors in the packaging line will sense that the cup is present in or on the food packaging!  
A great solution for today's high speed performance production systems.
Give us a call at 419-248-4411 to find out more!